What Our Patients Like Most About Our Pharmacy
We would love your feedback! Please let us know how we are doing and leave us a review below.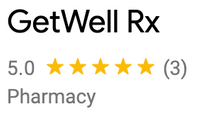 "Great team and even better service. If you haven't made the switch, do it today. Free delivery is awesome!"

"New business, but amazing people own and operate it so I know you can't go wrong doing Business with them."

"Great Pharmacist and convenient!"

"I used GetWell Pharmacy today for the first time. I was greeted with a friendly staff and quick service. Although they did not have my prescription on hand they were able to fill it in less than 10 minutes. They have that small town feel that I love. I will be using them again."
We would appreciate your feedback to share on this page of our website. We'd like to let others know what our current customers have to say about GetWell Rx! Thank you in advance for your time and consideration.